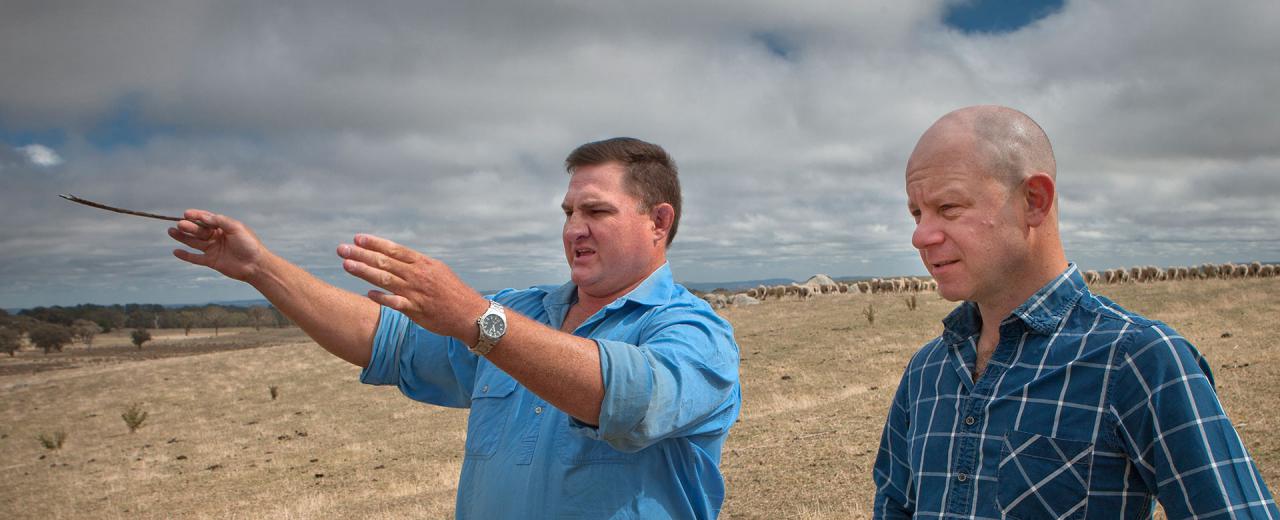 SOUTHERN Tablelands graziers, James and Natasha McCormack, say the use of a professional finance broker has helped them to grow their lamb enterprise with confidence. 
Over the past decade, the McCormacks have boldly switched from wool to lamb production and increased the size of their operation at the same time.
James is the sixth generation of his family to graze livestock on 'Red Hill', a 900 ha property on the top of the Great Dividing Range about 20 km west of Crookwell. The family's Irish matriarch, Catherine McCormack, and her six children moved to Australia in 1856 before purchasing two 16 ha blocks in 1863. 
After leaving school, James spent an eventful decade as a professional rugby player with a number of Sydney and Canberra clubs and representative teams, including the Australian Under 19s and Under 21s, NSW Waratahs and ACT Brumbies.
"Playing rugby for a living was great way to spend your time as a young bloke but I always knew I would come home one day," James says. "I remained involved with the farm when I was playing footy, even if it was only for a couple of days here and there.
"Natasha and I were married in 2005 and we came home in 2006, straight into the middle of a horrible drought. I took over from Dad in 2007 when I was 31 years old. I was extremely grateful for the opportunity, but to be honest, I was facing a mountain. 
"I was taking over a fifth-generation family farm at a time when seasonal conditions and commodity prices were desperate. Dad had been forced to destock and we were down to 400 ewes. 
"I needed to figure out a way to keep the farm going and take care of everyone. The only plan I had was to stick it out for five years. I started buying sheep and taking on agistment cattle, as well as playing a bit of club footy in Sydney. 
"My 'light bulb' moment was when I decided to start buying in first-cross ewes and joining them to Poll Dorset rams. I saw a bigger future in lambs than wool. I figured that I wore a woollen jumper occasionally but I ate lamb two or three times a week.
"At the same time, I started putting Border Leicester rams over Dad's ewes. Dad was an old wool man who'd been using Merryville bloodlines for years. I bred his flock out. He was pretty open to all the changes and as luck would have it, the season turned around very quickly. By July 2007, we were losing cattle to bloat. 
"I realised that prime lamb production was the direction I wanted to go and I started looking around for more land. We purchased 'Mt Henry' as part of a family partnership in 2009 and then bought out the remaining portion in 2014." 
Today, James and Natasha run 4000 first-cross ewes and 110 agistment cows on 'Red Hill' and 1500 Merino ewes, 800 first-cross ewe hoggets and another 120 agistment cows on 'Mt Henry', which is located about 20 km away. 
The operation now turns off about 4000 trade and 1500 finished lambs a year via the South Eastern Stock Exchange, Yass; AuctionsPlus; or direct to Cowra abattoirs, depending on market and seasonal conditions.
James and Natasha are continually looking for ways to improve their production and profitability, including their financial arrangements. "I stayed with Dad's bank when we took over the overdraft on 'Red Hill'," James says. 
"By the time we went to buy the rest of 'Mt Henry', my business banker had become a finance broker so we put the deal through him. We got the finance, better terms and a new bank in the process." 
In 2017, James and Natasha purchased an adjoining 220 ha block called 'Wendy's'. "I was happy enough with my new bank but I'd had a good experience with a broker the first time, so I had no hesitation using one again," he says.
"Richard Hewitt from Nimbus helped us to consolidate our new loan with our existing one. We got good advice and a level of service that we had not received before. We were able to make an offer within 24 hours, which helped us to secure the property, and stay with our existing bank."
James says he regards Richard as his personal 'business banker'. "I talk to Richard at least once a month and he visits us two or three times a year," he says.
"We really value the fact that he takes the time to stay in contact with us. He knows our business inside out. I bounce ideas past him and he provides advice about what's possible and what's happening in finance. 
"I've probably got the capability to manage my lending arrangements but to be honest, I don't have the time. I'm a grazier, not a banker. I still make an effort to do a bit of homework, though, so that I understand what's happening.
"Richard has helped us to expand with confidence. We've more than doubled the size of our operation in 10 years and I don't have any trouble sleeping worrying about whether I can meet my commitments."
"By using a broker, I am in control of my lending arrangements, not my bank. It's a better way to do business. It's not just about getting a loan, it's about getting a better loan. Having a third party in the negotiation process keeps everyone honest. It's more power to us.
"I'm not bashing banks because we all need finance. My family stayed with the same bank for more than a century. They got us started and supported us through some very difficult times and my family is very grateful for that. However, it pays to look around. 
"Your finance arrangements are not something you should leave alone until you need a new loan. If you don't look at what's going on regularly, you could be giving away a lot of money."
James and Natasha and their four children – Tara, Marnie, Finn and Bridie – live in the family's 100-year-old home, while his parents, Tom and Perry McCormack, are just down the road.